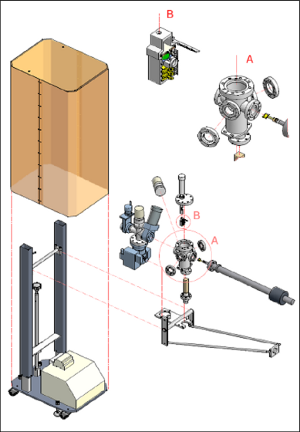 Your Connection to Light Sources, Beam Lines, Advanced Analysis Tools
SURFACE UHV transport cases connect the UHV system at your lab to the light sources and analysis tools of the world. Sample transfer under UHV conditions in a comfortable and secure way – compact and flexible.
The transport cases are suitable for every kind of transport: car, train, airplane. Initial pressure can be in the 10−10 mbar range, and even after several days the pressure in the transfer case will be as low as 10−9 mbar – without any power connection – thanks to the advanced pumping technology.
Modular Design Meets Your Demands
SURFACE offers a system of components to create the transport case suitable for your individual requirements:
single sample transport or groups of samples
individual transfer length of the samples to the docking UHV system
integrated or separate docking pump stage
complete transport frame to hold the transport case, with variable docking height and angle
foldable design for compact transport dimensions
optional protective cover for save transport
Advanced Pumping Technology
SURFACE transport cases are equipped with SAES NEG pumps providing a high pumping speed without applied power. The chamber and the manipulator are bakeable so that the installed NEG (Non-Evaporable Getter) pump can guarantee low pressure during transport for extended periods of time.
Product Photos