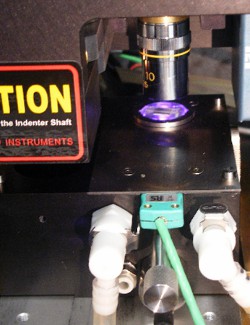 Today materials science requires the detailed knowledge of mechanical properties of materials even on the nano scale. SURFACE nanometrology is specialized in nano metrology since 1996. Our major focus is nanoindentation and scanning probe microscopy (SPM). These techniques allow to determine various physical properties of thin films or bulk material with a lateral resolution in the nanometer scale. We have gained reputation as a distributor for advanced nanometrology systems and now offer a range of accessories for nanoindentation and SPM systems
Our laser heaters for nanoindentation measurements allow to determine material properties at high temperatures (up to 500°C). At the same time they allow to heat only the sample itself, not the surrounding area, avoiding long stabilization times and allowing extremely fast heating and cooling, ideal for dynamic material testing.
In addition, we offer an indenter tip laser heating option. Tip heating is important for measuring a heated sample with low thermal conductivity. In this case the mechanical properties can be affected by the influence of the cold indenter tip. Laser tip heating also minimizes the heat capacity of the heated parts and allows for rapid temperature changes.
For other applications, a temperature range reaching below 0°C is desirable. SURFACE nanometrology also has a combined heating/cooling stage with a temperature range from −40°C to +200°C. The stage includes an inert gas purge to avoid water condensation and sample contamination at low temperatures.
Our SURFACE Stabilizer maintains your nanoindenter housing at an extremely stable temperature to minimize drift rates for precise and reproducible results, even if the room temperature changes.
For MTS/Agilent and Hysitron nanoindenters, we provide a range of replacement tips. Please contact us for more information, or shop online to find the right tip for your requirements.